The Reckless Saints Concert on the GreenMarket Stage
DateDecember 27, 2020 @ 4:00 pm - 5:00 pm
Time04:00 pm - 05:00 pm
Location 10091 McGregor Blvd.
Fort Myers, FL 33919 United States
Price$12.50 – $50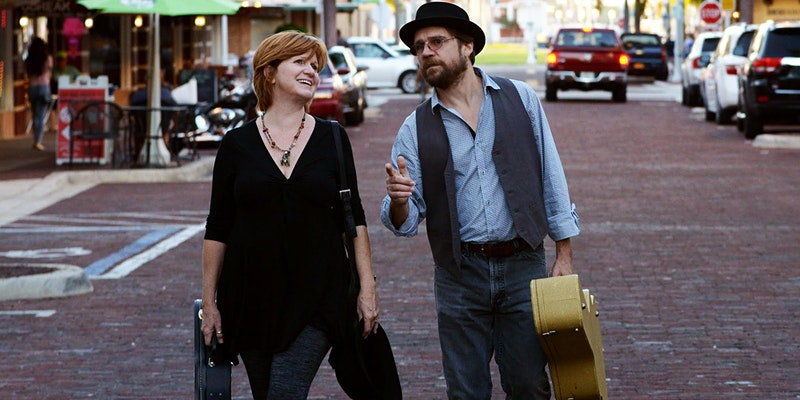 Event details
Live music returns – outdoors and with social distancing – at the Alliance! We've been hard at work to create an intimate, open-air venue where our neighbors can safely enjoy live entertainment. And what better backdrop for a performance than the gorgeous Florida sky?
Reserve your square now! This is a cosponsored event with the AMCA (Americana Community Music Association). Songwriting musicians Roy Schneider & Kim Mayfield are the core duo of the Reckless Saints, an original Americana musical act based in the American south. They've been touring for over a decade sharing bills and stages with John McEuen (Nitty Gritty Dirt Band,) Malcolm Holcombe, Eilen Jewell Band, Chuck Prophet, Brothers Comatose, Darrell Scott, and Nashville legend Charlie McCoy. Schneider accompanied folk icon Tom Paxton on his last solo tour in Florida after which Paxton pronounced him 'one of those horrible people who seemingly can play anything they pick up and play it beautifully."
One show only! For safety reasons, all tickets must be purchased in advanced.
Seating is limited and attendees will purchase a pass for a 6×6 square space on our GreenMarket lawn. In order to maintain social distancing, all lawn spaces will be 6 feet apart. Guests are required to bring their own lawn chairs and blankets. A pass for a 6×6 square space is $12.50 for 1 person, $25 for two people or $50 for a group of four people. The average per person price is $12.50 plus fees.
Attendees are able to pre-order snack boxes for two, provided by the Broadway Palm Dinner Theatre. Beverages will be available for purchase onsite. Boxes include:
Hummus Platter for 2 – Roasted Red Pepper Hummus, Caramelized Onion Hummus and Couscous Salad with Grilled Pita ($10)
Turkey, Spinach, and Cranberry Wrap with Caprese Salad for 2 ($15)
Quinoa Veggie Wrap with Caprese Salad for 2 ($15)
Dessert Medley for 2 with Peanut Butter Truffles, Coconut Macaroons, and Assorted Holiday Petit Fours ($10)
Please note: Event staff and volunteers are required to wear masks at all times. Attendees are required to wear masks indoors of the Alliance, for bathrooms and when social distancing is not possible. In the event of inclement weather, we will reach out to you to either refund or reschedule the performance.