CLICK HERE for a map to all current billboard locations!
Local artists in Lee County are making our community a better place by elevating the caliber of originality, talent and culture that exists here. Our Art Lives Here campaign creates more art for more people by displaying artwork on billboards throughout southwest Florida, transforming advertising space into public art for and by our talented local artists!
Art Lives Here is made possible by Alliance season sponsor Carter Outdoor.
2020 Art Lives Here Artists and Artworks
Congratulations to 2020 exhibiting local artists Tania Begg, Donna Chase, Stephen Hayford, Bruce Mackechnie, Nance Marsden, Leila Mesdaghi, Eric Riemenschneider, Whit Robbins, Myra Roberts, Carolyn Steele, Alyssa Stoff, and Barbara Weems!
Where the Heart Is by Tania Begg
Acrylic – 48x24in
With music playing in the background, my black ink pen dances across the canvas… the movement creating lines…and shapes…that interconnect…bright colors define each area and perform a Symphony. And within this Symphony…is my heart.
Touch by Donna Chase
Acrylic – 16x40in
"A simple touch can calm a tortured soul, convey emotions… even heal.  Our hands are an extension of our humanity, regardless of color, age, strength or ethnicity.  In our new world of social distancing, we long for a real hug, a kiss or a simple handshake. Touch is part of the basic human experience. "
You Never Know What You're Going to Get by Stephen Hayford
Diorama and Photography – 25x15in
When I was in photojournalism I frequently covered tarpon fishing tournaments off of Boca Grande, Fla. In every tournament, without fail, some unlucky angler would be reeling in a prize–contender only for it to be snatched by a shark before it got to the boat. I also would often witness casual anglers who let their rods sit while they took a nap. "You Never Know What You're Going To Get" is what I imagine when both those scenarios collide.
Jazz Dreamscape by Bruce MacKechnie
Acrylic – 20x16in
Going to jazz clubs and listening to recordings of various greats like Billy Holiday, Thelonious Monk, and many others I wanted to create an image that captured the dreamy rhythms, the varied and colorful abstract quality of the musical notes, and the range of feelings the music and the artists inspire. My composition is sort of a dream team of jazz greats who have given me, and millions of others, hours of pleasure and entertainment over the years.
Summer Practice by Nance Marsden
Oil and Pastel on Canvas – 30x40in
Some of my fondest memories of when I was young are of playing instruments and singing with my friends. It took practice to make beautiful music together. And now, it still takes a lot of practice to make beautiful music together, whatever kind of music we are making
What Color is Your Sky by Leila Mesdaghi
Digital Collage – 12x24in
I asked my friends around the world to look up at the sky, capture it, and send it to me. There is a Persian proverb that says: wherever you go the sky is the same color! Through these photos I am able to see what they see, and by sharing it in an art form others can see it too.
No Snitches by Eric Riemenschneider
Oil – 78x36in
As an Art & Design teacher, every day I attempt to open my students' senses to new experiences and challenge their way of thinking. These three young men are former students that challenged me quite a bit as a new instructor.  Their pose represents the potential obstacles in communication but also celebrates the breakthrough and permanent bond of teacher and student.
Greening of Florida by Whit Robbins
Acrylic Painting – 30x40in
When I put my brush to the canvas to paint for this project about Florida, what came to mind was GREEN!  Having grown up in snow-belt areas, that's what I hungered for during the long winters. Now, here I am in Florida which is a non-stop green paradise.  Thank you Florida!
Dive In by Myra Roberts
Acrylic on Canvas – 24x36in
Dive in was painted at a challenging transition time in my life.  The diver represents that inner strength to take the leap of faith when life feels uncertain.
Bejeweled by Carolyn Steele
Acrylic – 30x22in
The combination of fascinating detail, texture, and color are what inspired me to paint this iguana portrait. I was especially intrigued by the beauty of the large sub tympanic shield on his lower jowl that reminded me of an Ethiopian opal, my favorite gemstone.
Water and Stone by Alyssa Stoff
Acrylic on Canvas – 72x42in
The inspiration for this painting comes from having artists block. At the time, I didn't like anything I was making and really need to do something fresh. It actually started out very different and I wasn't enjoying the process. Once I stopped overthinking it and just focused on my movements and feelings it really came forward on its own. For me, it's nice to know that even when I get stuck I can still find my way back. I think this painting represents that realization.
Orient Express by Barbara Weems
Mixed Media – 34x36in
This abstract painting began with mark making and my ubiquitous circles. I noticed what looked like olives and eggs on a plate and then followed tablecloths and the thought of luxurious dining on the Orient Express.
2019 Art Lives Here Artists and Artworks
Neighboring Towns by David Acevedo
Acrylics and spray paint on canvas
"This painting represents various things to me. First, the memories of the town where I grew up where blue skies were bright, roosters roamed around and the neighbors all knew each other. It also represents the sense of community and togetherness I strive for in my city. I am trying to portray a little sense of togetherness with this piece."
Night Player by Marne Adler
Multimedia on canvas
"We are the music makers is an ode by the British poet Arthur William Edgar O'Shaughnessy. O'Shaughnessy was deeply influenced by French poetry and by the Pre-Raphaelite group. This poem, and my piece, is a tribute to all creative artists in the world."
Image Blocks 2 by Pat Collins
Digital Arrangement
"I make art using stencils, cut-outs, rubber stamps and more from my expansive collection of imagery inspired by past and present cultural and mythological iconography. Taking elements from my mixed media works, I digitally combine and recombine. It's like rearranging blocks, experimenting with juxtapositions and color for different effect or interpretation."
Dressed in Color by Vicki Baker
Acrylic
"Last winter, I was reading an article in a magazine about women in Kenya. There was a photograph of two women dressed in colorful clothing and cloth headdresses. Both of them were wearing many layered beaded necklaces. That image sparked my imagination for a series of 6 paintings of women wearing multi-layered beaded necklaces and dressed in colorful garments. "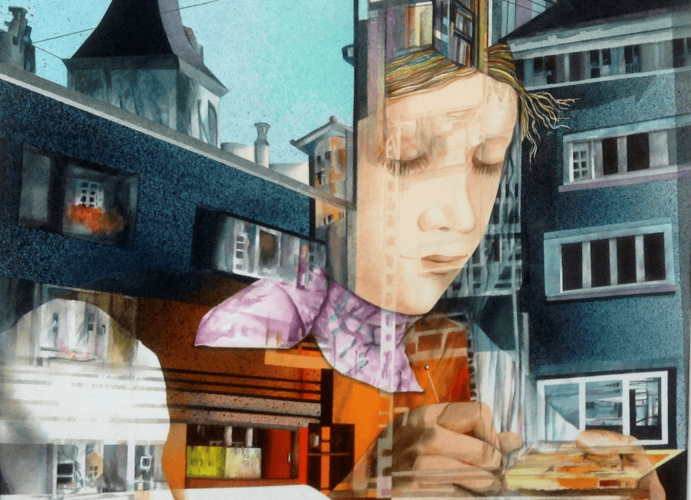 Reflections of Zurich II by Cheryl Fausel
Watercolor
"The painting Reflections of Zurich II is a painting based on a photo reference I took in Zurich, Switzerland. The girl in the painting was an advertisement in a bank window, with the buildings in the background reflected. The image is an excerpt from a painting by the Swiss Artist: Albert Anker."
Apple of My Eye by Leo Johnson
Acrylic
"My paintings are based on people and their interactions with each other through smiles, glances and words. I feel people are the new landscape."
The Collection by Charlotte McClatchey
Acrylic
"For me, arranging a still life provides inspiration. The joy comes through the process of expressing the beauty of the forms on canvas."
Beachwalk by Richard Stanton
Acrylic on Canvas
"This painting is part of my Florida Landscape Series that explores a different perspective on the character of intra-coastal beaches. The series is necessarily based on invention as well as observation."
Florida Wildflower: Varnish Leaf by Toni Ferrell Sutton
Mixed Media
"For me, there is no better muse than the wildness of nature. The infinite aspects, simultaneously vast and microscopic, provide challenge enough for a satisfying experience."
Oops! We could not locate your form.