BIGGER, FASTER, FRESHER, LOOSER ABSTRACT PAINTING (Ages 16+)
DateJanuary 10, 2019 @ 9:30 am - 4:30 pm
Time09:30 am - 04:30 pm
Reoccurs 3 Day Workshop 1/10/19 - 1/12/19
Location 10091 McGregor Blvd.
Fort Myers, FL 33919 United States
Member's Price $350
Non-Member's Price $435
Can't make this one? See All Upcoming Classes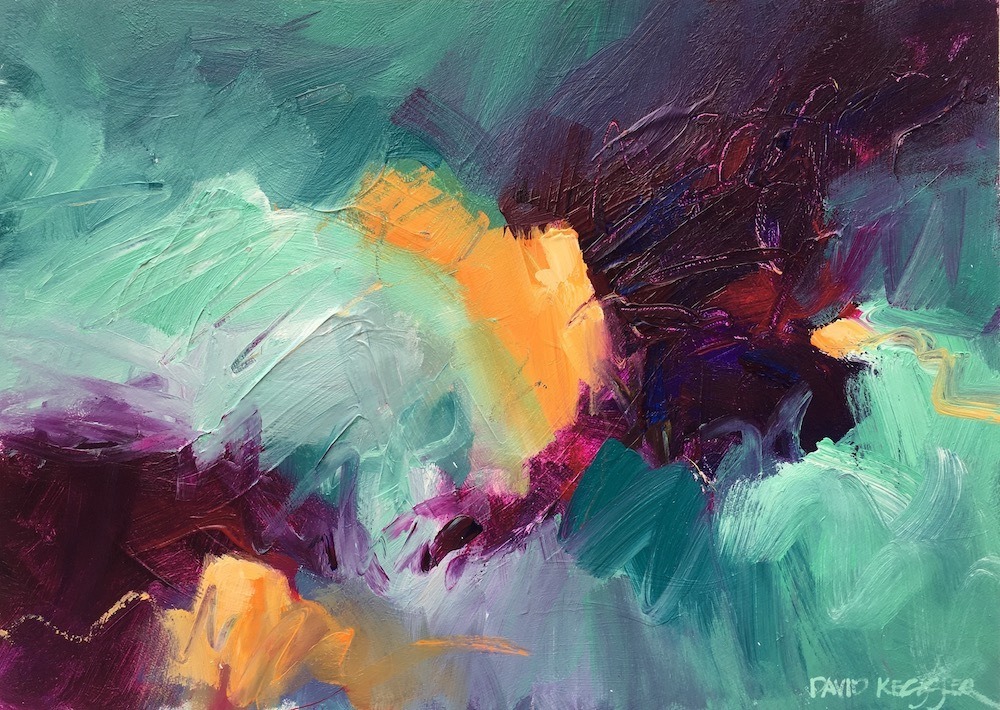 Event details
Have you ever wondered how to Loosen-Up your painting style?  Paint with more Freedom?  Be more Spontaneous?  Be more Expressive?  If the answer to any of these questions is, "yes," then David's Bigger, Faster, Fresher, Looser Abstract Painting workshop is for you!  David will teach you how to do each of these realizing there should also be a firm foundation of structure for your paintings using shape, value, color, edges, and center of interest.
This workshop is not only about painting abstract compositions, but also about learning to loosen-up and paint more freely.  All who attend will be able to apply the lessons learned to their own style of painting in their studios.
This workshop is non media specific.  All who utilize watercolor, acrylic, pastel and oil are welcome.  Each meeting will include instructor discussion, an instructor painting demonstration, student painting time, and critiques of student work.  While it is helpful if students have a basic knowledge of painting and composition development, it is not required.
Supply list: The following is only a suggested materials list.  Do not feel obligated to purchase all of the paint and brushes on this list!  You WILL need all of the painting surfaces listed.
Paint: You can use any acrylic, oil or watercolor paint. Please note that if you use student grade paints the colors will not be as intense, nor will the colors mix as well as with professional grade paints. Use your judgement based on your budget. You will need a minimum of 8 oz. (250 ml) of each color and a minimum of 12-14 (400 ml) oz. of white. You should bring one each of the following if possible:

Warm Yellow (ex: Hansa Yellow Deep or Cadmium Yellow Deep or Indian Yellow)
Cool Yellow (ex: Hansa Yellow Light or Cadmium Yellow Light)
Warm Red (ex: Cadmium Red Medium)
Cool Red (ex: Quinacridone Magenta or Alizarin Crimson or Permanent Magenta)
Warm Blue (Ultramarine Blue)
Cool Blue (Cerulean Blue)
White (Titanium or Zinc)
Black (mars or Ivory)
Optional:

Medium Blue (Cobalt Blue)
Green (ex: Phthalo Green or Viridian)
Violet (ex: Permanent Violet or Cobalt Violet or Ultramarine Violet)
Orange (ex: Pyrolle Orange or Cadmium Orante)

Brushes for Oil or Acrylic Painters: The brushes you typically use, with a selection of 1" and 1-1/2" sizes.  You will need at least a couple of 2" and 3" brushes.  Brushes can be either nylon or natural bristle.  David uses the following:

Gesso Brush from Dick Blick (natural bristle)
Creative Mark Primer Brush from Jerry's Artarama (natural bristle)

Brushes for Watercolor Painters: Any 2' nylon flat watercolor wash brush will work, plus the brushes you typically use.
Large water/spirits containers
Water spray bottle – large
A palette. David uses a roll of wax paper and some tape
Paper towels
Materials for note taking, or a sketch book
Palette knife – medium to large size (not required for watercolor painters)
Artist Tape or masking tape – DO NOT bring blue or green tape – only white or cream color
Painting Surfaces for Acrylic and Oil Painters: For painting surfaces you can utilize canvases, gessoed 300 lb watercolor paper, canvas panels, or wood panels. You will need (4) surfaces for day one; (2) surfaces per day after that: 18×24 minimum – 30×40 maximum.  If utilizing watercolor paper you will need a substrate support board and slips or tape.  Regardless of surface, each should be coated with gesso.  Pre-stretched canvases already come coated with gesso.
In addition you will need 8 – 10 small painting surfaces which could be matboard, wood, Masonite, canvas cloth, canvas panels, watercolor paper, etc.   (If using surfaces other than canvas, make sure they are coated with gesso). Minimum size would be 6×8 and maximum would be 12×12.
Painting Surfaces for Watercolor Painters: (4) 22×30 full sheets of watercolor paper (140 or 300 lb.) for day one; (2) per day after that.
In addition you will need (2) 22×30 full sheets cut into 7.5×11 squares – you will get (8) 10×10's per sheet – you should have 8 total.  You may also need a support board and clips or tape.
Instructor(s)
David M. Kessler