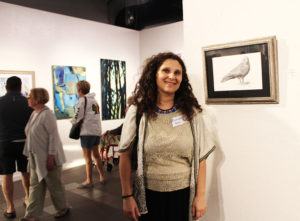 Artists from all over Florida submitted more than 530 pieces for consideration in the Alliance for the Arts' Annual All Florida Exhibition. The juror, Mark Ormond, narrowed the list to 57 pieces which were unveiled to the public during an opening celebration on March 9. The exhibit will continue until March 29 at 10091 McGregor Blvd. Fort Myers, FL 33919.
Betsy DJamoos was awarded $1,000 for Best in Show for her abstract piece "Natural Vibrations." Elisabeth Arena  won a $250 Golden Colors Gift Certificate for her 2nd place for her graphite work "The Contemplative Crow." Gay Germain won $100 for 3rd place for her acrylic piece 
"Sculpture Garden Reductive III." David Belling, Sherry Rohl, Tammra Sigler and Buck Ward were awarded Juror's Choice Awards.
"My intuition guides my palette, brush strokes and knowing when the painting is finished," says Best In Show Winner DJamoos. "All my paintings start out with intuitive marks on a white canvas and the piece evolves from that flow."
Full list of exhibiting artists include: Kaitlyn Handley, Hilda Champion, Beverly Yankwitt, Paul Dengler, Alane Enyart, David Belling, Betsy DJamoos, Susan Rienzo, Roxanne Hanney, Carolyn Steele, Ellen Miller, J.T. Phillippe, Elisabeth Arena, Imani Gibbs, Sherri Hubby, Maggie DeMarco, Tammra Sigler, Grayson Stoff, Buck Ward, Stephen Staack, Barbara Groenteman, Gregory Presley, Katrina Parker, Paula Rucket, Julio Pacheco Delgado, Deborah LaFogg Docherty, Megan Kissinger, Jeff and Dale Ocasio, Taylor Scalzo, Susan Ritter, Gay Germain, Christine Di Staola, Diane Schultz, Carol Stream, Vae Hamilton, Sharon Rodgers, Dirce Kennedy, Jolie Black, Mariapia Malerba, Luba Drahosz, Dianne GreenWoman Wickes, Peter Zell, Roseline Young, Sherry Rohl, Mark Wlaz, Victoria Milne, Tracy Owen Cullimore, Susan Martin and Deborah Martin.
"It's exciting to host artists from across all the pockets of Florida," says exhibitions coordinator Krista Johnson. "The submissions truly showcase the breadth and creative talent of Florida's independent artists."